A History of the Simmental Breed
The Simmental is among the oldest and most widely distributed of all breeds of cattle in the world. Although the first herd book was established in the Swiss Canton of Berne in 1806, there is evidence of large, productive red and white cattle found much earlier in ecclesiastical and secular property records of western Switzerland.

photo courtesy of Beate Milerski

These red and white animals were highly sought because of their "rapid growth development; outstanding production of milk, butter, and cheese; and for their use as draught animals." they were known for their imposing stature and excellent dairy qualities.

As early as 1785, the Swiss Parliament limited exports because of a shortage of cattle to meet their own needs. The Swiss "Red and White Spotted Simmental Cattle Association" was formed in 1890.

Since its origin in Switzerland, the breed has spread to all six continents. Total numbers are estimated between 40 and 60 million Simmental cattle world-wide. More than half of these are in Europe. The spread was gradual until the late 1960s. Records show that a few animals were exported to Italy as early as the 1400s. During the 19th century, Simmental was distributed through most of Eastern Europe, the Balkans, and Russia, ultimately reaching South Africa in 1895. Guatemala imported the first Simmental into the Western Hemisphere in 1897, with Brazil following suite in 1918 and Argentina in 1922.

There are reports from a variety of sources indicating that Simmental cattle arrived in the United States before the turn of the century. Simmental were reported as early as 1887 in Illinois, according to one source; in 1895 in New Jersey; and in both New York and New Mexico around the 1916 to 1920 period. However, those early imports did not capture the attention of the American cattleman and the Simmental influence died quietly away until the late 1960s.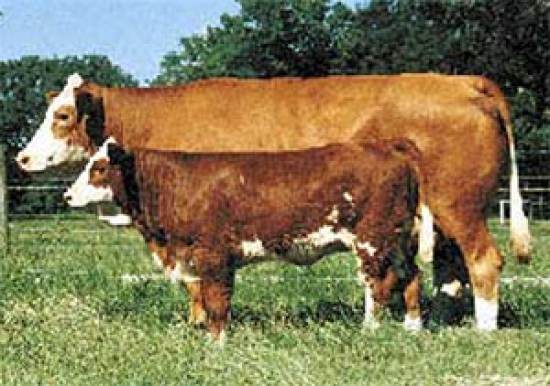 The breed made its most recent appearance in North America when a Canadian, named Travers Smith, imported the famed bull "Parisien" from France in 1967. Semen was introduced into the United States that same year, with the first half-blood Simmental calf born in February of 1968. The American Simmental Association was formed in October of 1968. Simmental spread to Great Britain, Ireland, and Norway in 1970 and to Sweden and other Northern European countries shortly thereafter. The first purebred bull imported into the United States in 1971 and Australia received Simmental semen and live animals in 1972 from NZ the World Simmental Federation was formed in 1974. In 1976 Simmental cattle were shipped to the Peoples' Republic of China.
The breed is known by a variety of names, including "Fleckvieh" in Germany, Austria and Switzerland as well as many other European countries."Pie Rouge", "Montbeliard", and "Abondance" in France; and "Pezzata Rossa" in Italy. The Simmental name is derived from their original location, the Simme Valley of Switzerland. In German, Thal or Tal means valley, thus the name literally means "Simme Valley".
CHARACTERISTICS OF THE BREED
COLOUR:
There is no characteristic colour that clearly defines the Simmental Breed. In the main they vary from pale gold to dark red and white bodies with a white head. However now, particularly in America, there are straight black or straight red colours with no white at all. In NZ we have them all.
BODY:
In general Simmental have large frames with good muscling, can be horned or polled and one distinguishing feature is a heavy dewlap. Their weight can vary but cows can weigh around the 700 -900 kgs and bulls 1300kgs. Simmentals are bred all over the world for their high beef yields. The heavy muscling, length and overall size and weight of the animal are combined to produce a well fleshed carcass of solid red meat with white fat and excellent marbling. They are ideally suited to meet the requirements and demands of the modern processor and consumer.

USE:
Generations of selective and performance breeding with objective of maximising milk and beef have produced an animal which is exceptionally versatile. It is used in many parts of the world either as a purebred or a crossbred in the Dairy industry. In other countries it is used either as a terminal breed(All the progeny are slaughtered) or as a maternal breed (the heifer progeny are retained in the herd) in the beef industry.

In NZ it is mainly used as a terminal breed but increasingly farmers are recognising its qualities as a beef cow particularly as a cross over the British breeds (Angus and Hereford). Simmental injects extra growth, milk and yield resulting in heavier weaners and carcass weights in their progeny.

THE NEW ZEALAND SIMMENTAL
The NZ Beef industry is part of our Nations wealth contributing significantly to our economy. The beef industry is NZ's second largest Export earner. In June 2007 there were 4.4 million beef cattle of which 1.2 million were Beef Breeding cows and heifers. Few farmers devote themselves exclusively to beef production. In general the raising and finishing of beef cattle is carried out in conjunction with sheep farming – in many instances the "Beef Cow" is used for maintaining the quality of pasture for sheep production. In addition beef is produced from the dairy industry.

New Zealand is a world leader in farming and achieves this without the assistance in any form from the NZ Government. With our natural and nutritious pastures, environment free of pollution and major diseases there is no better place in the world to raise premium quality, natural grass fed beef. Simmental is a major player in this.

NZ HISTORY
In 1970 Don Graham (an auctioneer and stock agent) on behalf of a syndicate Dick Kerr, David Baker, Derrick Orbell and Rodney Cox went to Scotland and purchased the first Simmentals for NZ. In the early 1970's NZ could only import live cattle from the UK and at this time German Simmental heifers were arriving in Scotland and England for the first time. They were purchased before they were conceived off James Jeffery from Kelso in Scotland for 1250 guineas and eventually two arrived in 1972 called Kersknowe "Atom"(a bull ) and "Alice" (a heifer). Needless to say Atom met Alice and Alice dually produced Alpha 1. Six months after giving birth Alice died of bloat (Damn, such is farming!!) but her heifer calf went on to sell for $47,500 – a world record.

In 1971 Don went back to the UK and purchased more purebred cattle and arranged the purchase of 10,000 straws for the NZ market. By this time Simmental cattle were in big demand and while (for quarantine reasons), New Zealand could only purchase progeny born and semen produced in the UK, Australia could only purchase from NZ, thus resulting in plane loads of Aussies rushing to be the first to import Simmental blood.

In 1973 a small shipment of Purebred females were directly imported from France and in 1974 thirty six purebred females were directly imported from Germany and shared equally between the Simmental Society and the NZ government (Then Lands and Survey but now called Landcorp). Competition for these 18 cattle was intense and demand far exceeded the demand. The heifers were balloted and purchased at 9 months of age while in quarantine for around $10,000 each.

As there were very few purebreds in the country the demand was for first cross bulls and heifers. In the next few years it was like a mini "gold rush" and NZ experienced the fastest growth rate of any breed in history. Many early purchasers were city and overseas investors including Americans, out to make a quick buck. The first Simmental Sale (4th May 1974) in Australasia was held on the Levels Property of Rodney Cox with world record prices being made. Simmental mated Hereford cows $1400 (originally purchased for $350), matedF1 heifers to $5000 (world record with most exported to Australia) and of course "Alpha 1" $47,500. There followed some bulk imports of frozen embryos one from Germany and one from Canada.

In 1972 the NZ Simmental Cattle Breeders Society (an incorporated society) was formed with Dick Kerr as its first Chairman and Max Studholme as the secretary.

In 1974 Ian Johnson became the first full time secretary. Such was the popularity of the breed that the society employed 5 full time staff with one doing nothing other than document exports to Australia. In those days everything was manual and Ian Johnson remembers signing over 4000 half bred registration certificates in the first year of registrations.
As the demand began to level out the speculators began to drop out. Many of the cattle in Europe are housed and so a lot of genetics that came into the country in the early days were unsuited to NZ grass fed conditions. However as the years progressed so did the cattle with the serious breeders performance recording and selecting cattle that performed under our conditions.

Currently, we have 58 herds. All are performance and pedigree recorded under "Group Breedplan" with the Animal breeding recording Institute (ABRI) at Armidale in Australia. There are a total of 4480 cows whose progeny are used throughout the country contributing significantly to NZ's Beef industry and the National economy.



[ Back to top ]